UGLW: Unofficial Guide to Legoland Windsor
Everything you need to know - and more - about your visit to Lego Land, one of the UK's top tourist attractions
UNOFFICIAL GUIDE TO LEGOLAND WINDSOR
Legoland Tickets
Getting tickets for Legoland Windsor is easy.
The most obvious place to get tickets for Legoland is at the Legoland website.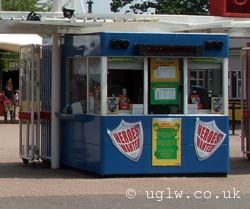 Ticket booth at Legoland Windsor
You can also get tickets from agencies and other outlets - you may well find some advertised on this website. You are likely to pay less than the standard gate price.
More:
Top Pages:
UGLW News:
2023 Season
Legoland Windsor is currently closed except some Christmas special event days in December when some rides are open. See the Legoland Opening Times page for details.
UGLW Love:
♥ We love a bit of praise!
Your guide has been so helpful especially the directions to get there from the m4 - it saved us loads of time. We used your site to plan for the day which meant we got so much more out of it. Thanks so much.
CS, 2 September 2017
We love your webpage, it is a big-big help to plan and organize everything.
R, 23 May 2017
Thanks for this wonderful site. It really helped us get the most out of our day at Legoland yesterday.
GW, 3 June 2016