UGLW: Unofficial Guide to Legoland Windsor
Everything you need to know - and more - about your visit to Lego Land, one of the UK's top tourist attractions
UNOFFICIAL GUIDE TO LEGOLAND WINDSOR
Entering Legoland
There are 2 stages to entering the park itself:
1. Buying your ticket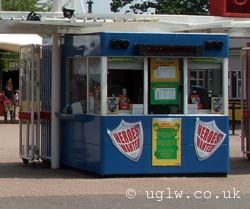 Ticket booth at Legoland Windsor
The booths you see are for purchasing your ticket if you don't already have one. Any of the open booths will sell any type of ticket. If you have already got a ticket in your posession you don't need to use these booths, so you can bypass this bit completely.

2. Entering the park itself
Legoland Windsor entrance gates with barcode readers
This is where every person 90 cm or over needs a ticket. You will find each ticket has a barcode just like the things you buy at the supermarket - find it. There are many entrance gates and all of them have a barcode laser. Simply place the ticket into the reader with the barcode first and face up (this is the bit that seems to cause visitors the most trouble). When the machine reads the barcode correctly it will beep and allow one person to pass through the barrier.
There are special entrance ways for buggies and wheelchairs.
Attendants are available to help in this area, especially early in the day.
Once you're through the barriers, relax! Begin to enjoy Legoland Windsor. Take a walk straight ahead and you and take in the view across the themepark, further to Windsor, then London Heathrow Airport and even in to London itself...all depending on the weather of course!
View of Windsor Castle from The Beginning at Legoland Windsor
More:
Top Pages:
UGLW News:
2023 Season
Legoland Windsor is currently closed except some Christmas special event days in December when some rides are open. See the Legoland Opening Times page for details.
UGLW Love:
♥ We love a bit of praise!
Your guide has been so helpful especially the directions to get there from the m4 - it saved us loads of time. We used your site to plan for the day which meant we got so much more out of it. Thanks so much.
CS, 2 September 2017
We love your webpage, it is a big-big help to plan and organize everything.
R, 23 May 2017
Thanks for this wonderful site. It really helped us get the most out of our day at Legoland yesterday.
GW, 3 June 2016